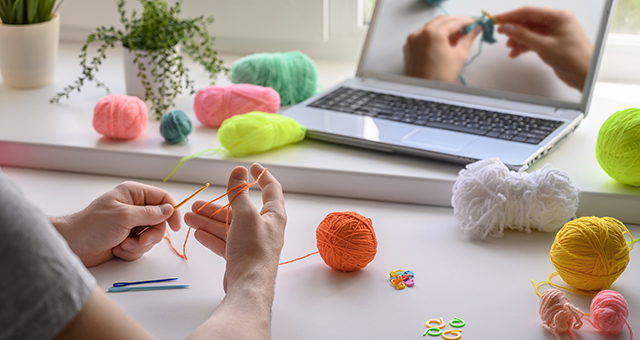 I have always loved learning new things, especially when it comes to crafting. For the past three years I have taught myself to crochet and sew through free online resources like YouTube. Recently I was happy to learn the Library offers two online tutorial services for crafting free to IndyPL Library card holders! One is called Creativebug and the other is called Craftsy.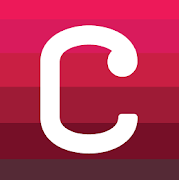 Creativebug
Creativebug is an online website that offers so many awesome resources for learning new crafts or just practicing ones I already know. It offers classes on things like art, sewing, quilting, jewelry, paper crafts, and many more! It also has an app for your smartphone that offers easy mobile access to their classes and resources. There is even a search bar on the website that allows you to find what you want, like classes about Cricut projects.
One of the videos I found to be super interesting was a video on how to make a phases of the moon wall hanging. The video is led by an instructor named Courtney Cerruti and the entire video was only 17 minutes long. It was super easy to download her pattern onto my Canvas by clicking the link in her description. After that it was very easy to follow along with the rest of the video.

The site also offers free knit and crochet patterns, an inspiration feed that is made up of other crafters' work, and class collections that allow you to find all the classes offered under a specific topic! Some of my other favorite classes include this crochet tutorial for making an adorable donut rattle and this sewing tutorial for making pillowcases.
Using Creativebug really helped me get comfortable with learning about my Cricut. I was able to find easy-to-follow videos led by informative instructors, something that can be difficult to find on a site like YouTube.
Here's how to get started with Creativebug
Sign up for your free account using your library card here.
Watch this helpful tutorial.
Need Help? Check out Creativebug's Help Center.
For more creative inspiration see our blog post Level Up Your Knitting Skills with Creativebug.
---
Craftsy
On our streaming platform Hoopla you can use your IndyPL Library card watch step-by-step instruction on a variety of creative crafts, such as baking, cake decorating, quilting, knitting, and more. See the Craftsy series here.

You can check out 10 items each month from Hoopla. After you check one out it is available for you to watch for 7 days. After checking out and then downloading a video, watching it will not require a Wi-Fi or direct internet connection.

If you are an iPhone or iPad user you can go to Apple's App Store, search for Hoopla and install it on your phone, computer or tablet. For Android users, you can find and download the Hoopla app in the Playstore. On a Windows computer, use your web browser to go to www.hoopladigital.com to begin browsing Hoopla's collection.
Need help? Ask a Library staff member at any of our locations or call, text or email Ask-a-Librarian. The Tinker Station helpline at (317) 275-4500 is also available. It is staffed by device experts who can answer questions about how to read, watch and listen on a PC, tablet or phone.
This blog post was written by Robin Youngworth, a Computer Assistant at Central Library. She enjoys crocheting in her free time and loves to find online resources to share with other crafters like her.