Programs in English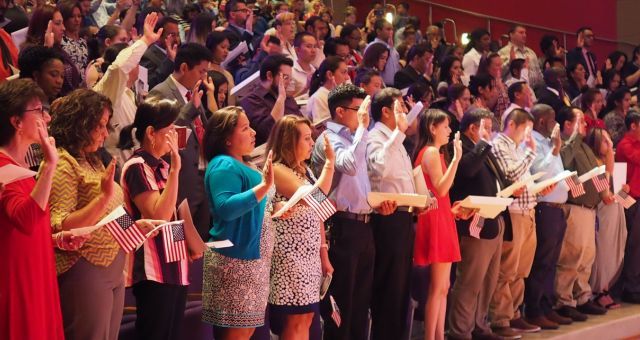 Naturalization Ceremonies
Celebrate the country's newest citizens at Central Library as they complete the final step toward naturalization – the swearing-in ceremony. Each month, close to 300 new citizens partake in the ceremonies, representing 30+ languages. This special event is hosted by United States Citizenship and Immigration Services (USCIS). Organizations that help make this day important are the League of Women Voters, Indy Eleven, and the Immigrant Welcome Center. We are seeking volunteers to greet and direct guests. For more information, see our Volunteering page.
Citizenship Class
Join us for a citizenship instruction class provided by the Burmese American Community Institute (BACI). Call (317) 331-7537 or email to inquire and register. Search for available dates on our online calendar.
Pathway to Literacy: Beginner English Classes
Pathway to Literacy is designed for adult English language learners who have 6 years or less of schooling to prepare them for future studies. The Immigrant Welcome Center hosts classes around the city in partnership with Exodus Refugee, Indy Reads, Washington Township Adult Education, and The Indianapolis Public Library. This is a referral only program starting on August 14, 2023, for 15 weeks. Email Aryan Ibrahim for more information.
English Conversation Circles
Join our English conversation circles to practice and improve your English skills in a comfortable and welcoming place. We discuss topics on American culture, idioms, phrasal verbs, some grammar, and much more! Facilitators are TESOL trained. See the English Conversation Circle schedule.
Programas en Español
Cuentos Vilingües / Bilingual Storytimes
Reading to children in their home languages shapes their views on literacy and their home cultures. It is also impactful to read to native English speakers in different languages. Come join us for Bilingual Storytimes in Spanish and Ukrainian. Storytimes occur in various branches in the city. See our Bilingual Storytime schedule.
Círculos de Conversación en Español / Spanish Conversation Circles
Learn Spanish and meet your neighbors in a casual environment. Spanish Conversation Circles offer a place for Spanish speakers of all levels, beginner to advanced, to practice the language. Hosted at Central Library on select Tuesdays in fall 2023. See the Spanish Conversation Circle schedule.
Taller Financiera Educación / Spanish Financial Literacy Classes
Enhance your understanding and confidence in financial decisions at our Spanish Financial Literacy classes. Hosted by a Spanish-speaking presenter, these classes will explore common (and less-than-common) financial questions and share advice that you can apply to real life situations. Visit indypl.org/calendar for dates and locations. See the Taller Financiera Educación schedule.
Club de Lectura en Español / Spanish Book Club
Read popular literature from the Spanish-speaking world and discuss with your neighbors. Some sessions will even feature visits from the authors! Books are made possible with support from The Indianapolis Public Library Foundation. See the Club de Lectura en Español schedule.