This Tinker Station blog post was contributed by Shahlo Seidmedova, a Computer Lab Assistant at Central Library. Shay, whose native language is Uzbek, enjoys expanding her skills with languages and helping patrons utilize digital resources to learn and to accomplish their goals.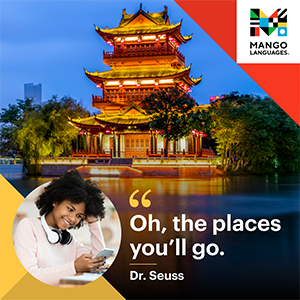 I have always had a great interest in learning foreign languages. From specializing in some to dabbling in others, I learned how satisfying language learning can be. Throughout my college years, I have taken German, Arabic, and Turkish. I also grew up speaking my native dialect of Uzbek, Turkmen, and Russian. Foreign language learning apps like Duolingo, Busuu, Babbel, and Mango Languages have assisted me in bettering my language skills outside of my academic classes. What drew me particularly to Mango Languages app is that Mango is conversation oriented, which was great for my auditory learning.
If you have been thinking about picking up a new language, why not try a couple of lessons on Mango? Mango, a language learning app, offers "70 world languages and dialects," which is a really great way to get a feel for a new language.
I have tried Persian, Norwegian, and Thai. My goal was to try to find out which language lent itself best to my skills. I breezed through Norwegian, because it sounds like English with some other atypical English sounds that I mastered due to my background in Eastern Turkic languages.
Mango uses a conversation-based approach by having you listen to a short conversation, then by breaking it down to individual words and phrases. There are several units in each language (People, Travel, Activities, Places, etc). Each unit has several chapters, and each chapter has several lessons. A lot of the less spoken languages have less content. For instance, you will not become proficient by taking about 66 lessons in Thai. Some other languages have specialty units. For instance, you can learn Russian slang while learning Russian.
Each lesson starts off with a simple conversation between 2 people, usually a woman and a man, then you learn each word or phrase from that conversation one by one. I enjoy the feature that allows the learner to record themselves and compare their audio with the native speaker—not that I think acquiring an accent at this stage should be a priority for the learner. However, putting your best efforts into imitating an accent is a way of immersing yourself into the language.