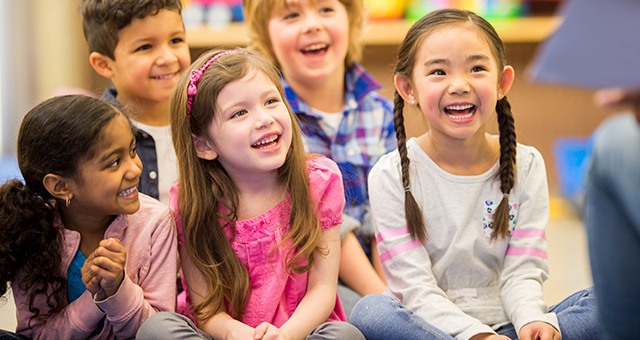 Storytime
Schedule & Registration
Babies, toddlers, and preschoolers are invited for storytime at multiple branch locations.
Online Storytime
Schedule & Registration
Children ages 0-6 and their families are invited for an online storytime. Join Ms. Jess for stories, songs, fun, and activities! Storytime will last about 30 minutes. Can't wait to see you!

Bilingual Storytime at Nora - Ukrainian
Schedule
Join the Ukrainian Society of Indiana for a bilingual storytime in English and Ukrainian. Storytime will last about 30 minutes. Feel free to stay after to connect with other families and the Ukrainian community!
Act It Out Storytime with React Kids
Schedule & Registration
Children ages 3-6 will join React Kids to act out classic fairytales and nursery rhymes! Can you be one of the Three Billy Goats Gruff or the Itsy Bitsy Spider? After reading the story, act it out!

Bilingual Music, Movement and Storytelling with Tharp-Perrin Gindhart Artists
Schedule & Registration
See storytelling come to life with creative body poses and live music inspired by nature and animals.

Paws to Read
Schedule & Registration
Children who are reluctant readers are invited to read to Dandy, a Goldendoodle. This activity can help young ones improve their reading skills and self-confidence. Participants may sign-up for a 15-minute reading sessions. Listen to the video read aloud Madeline Finn and the Library Dog here.
Storybook Friends Preschool Art Workshop
Schedule & Register
Explore watercolor and collage techniques inspired by the art of Eric Carle. Children ages 3-6 will learn about painting with water and will take home a fun collage creation of their own! Dress to mess!
Wiggle & Bounce Family Time - with Kindermusik
Schedule & Register
Children birth through age 5 and their caregiver will join Kindermusik of Indianapolis in this music and movement class. Adults will bond with their child through singing, dancing, and instrument playing. There's room for everyone to grow in this family program!

Central Library Tales 'n Play
Schedule
Stop in for some stories, music, and fun! Children ages 0-5 and their caregivers are invited to join the Learning Curve for a storytime! Afterward, all are welcome to stay for some open playtime. No registration is required.
Southport Tot Art at Southport
Schedule
Babies and toddlers up to age 3 and an adult are invited for an art program. Please stick around after the art activity for socialization and playtime. Come dressed for a mess!

Reading Ready Time
Reading Ready Time is a virtual library experience specifically designed to help children 3-6 years old get ready to read. All registrants will receive an email with a link and additional educational resources prior to the YouTube premiere. Programs will be available for a limited time following the premiere on our YouTube channel.