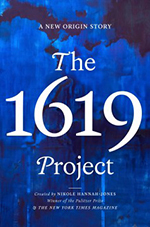 Join The 1619 Project Read Along: A Classroom Without Walls
For those interested in learning about early Black history in American, join The 1619 Project Read Along: A Classroom Without Walls, an online discussion designed to "remove barriers and invite all curious minds to discover and discuss this vital history." The Read Along is hosted by the publisher, One World, a Random House imprint. One World is giving away six chapters from the book free of charge, and invites readers to join discussions based on the selections.
You can check out a copy of The 1619 Project or, you can download the free chapters being made available over the next several weeks. There are online discussions and weekly discussion guides. If you have missed some of the chapter discussions, you can catch up or join in at any time.
"Democracy" by Nikole Hannah-Jones
If you missed our first chapter discussion for "Democracy" with Nikole Hannah-Jones, check it out here.
"Capitalism" by Matthew Desmond
Watch a video of Matthew Desmond answering questions from readers about his chapter, "Capitalism," here.
Upcoming chapters through February include:
"Fear" by Michelle Alexander and Leslie Alexander
"Race" by Dorothy Roberts
"Justice" by Nikole Hannah-Jones
"Music" by Wesley Morris
Note: a six-part Hulu original docu-series The 1619 Project premieres January 26, 2023.