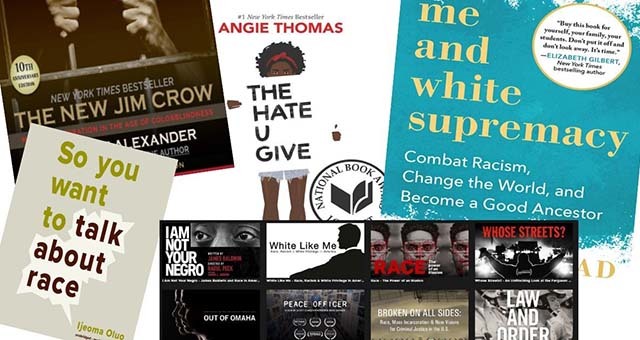 Are you interested in learning about antiracism, racial equity, and social justice? The following resources can help you learn about the construct of race, the experiences of people impacted by systemic racism, and the concept of racial equity.
Books can help us with our own self-reflection and can also give us an effective way to begin having crucial conversations with our families, friends, co-workers, and neighbors. Readers of all ages can take part in a community movement to read, learn, think, talk about, and lead social transformation.

The Racial Equity Collection makes it easier than ever for Library patrons to access antiracism and social justice resources.The Library's collection includes thousands of materials including books, e-books, audiobooks, DVDs, and Blu-rays. The materials span a wide range of genres, with titles suited for children, teens, and adults.
Learn more about how this collection was made possible by a generous grant from Lilly Endowment Inc.


More Ways to Read, Learn & Share
1. Check out an adult e-book or audiobook from OverDrive about antiracism.
2. Check out a kids e-book or audiobook from OverDrive about antiracism.

3. DIY your own equity and social justice book discussion by checking out an IndyPL Book Club in a Bag. Book Club Bags are available for more than 40 of the titles in the Racial Equity Collection. Each kit contains 10 copies of the same title with a 6-week checkout period, reading guides, and discussion questions. See the full list of Antiracist Book Discussion Kits.

4. Use your Library card to instantly check out no wait streaming documentaries and videos focused on social and systemic injustice and racism in America on Kanopy, one of the Library's streaming platforms.
5. Stream a movie from the category Black Cinema or listen to an audiobook from the category Black Stories and Experiences from Hoopla, another one of the Library's streaming platforms.
6. Explore the TEDTalks playlist Talks to help you understand racism in America to "take an honest look at everyday realities of Black Americans and illuminate the way forward" or make a selection from NPR's Code Switch list of books, films and podcasts about systemic racism.
7. Spend some time in the National Museum of African American History & Culture's Talking About Race Portal. The modules include embedded videos, diagrams, and question prompts to help illustrate and support the processing of complex ideas and also inspire conversation.
8. Use your IndyPL Library card to explore the online resources:
Black Freedom Struggle in the United States: Challenges and Triumphs in the Pursuit of Equality, an online learning module that includes primary sources about people and events in African American History to support learning more about the foundation of ongoing racial injustice in the U.S. and the fight against it.
Black Studies in Video, a collection of documentaries, interviews, and archival footage exploring the history of African Americans through politics, art and culture, sociology, and history in this video encyclopedia.
Black Thought & Culture, a collection of articles, interviews, speeches, essays, pamphlets, and letters, as well as a full run of The Black Panther newspaper.
9. Visit the Center for Black Literature & Culture at Central Library, a space dedicated to exploring the black experience.
After looking through the resources here, if you need more help, call or ask a Library staff member at any of our locations or call, text, or email ask-a-librarian. We are here to help you find what you need and make the most of Library resources.