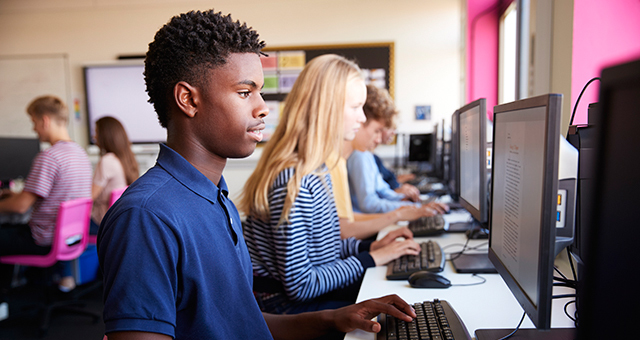 Introduction to Gmail
Schedule & Register
Learn the basics of Gmail including how to register for an account, compose and forward emails, manage your inbox, and best practices for email security!
Introduction to Microsoft Word
Schedule & Register
Discover how to create, format, print, and share documents with text, images, and tables in this three-part introduction to Microsoft Word Online.
Typing Practice and Instruction
Schedule & Register
Adults are invited to learn how to click, scroll, and what to do with some of those strange keys on the keyboard. Get a crash course on computer parts and keys!

Central Library Build Your Technology and Computer Skills with Northstar Digital Literacy
Schedule & Register
Do you want to build your technology skills? Take a skill assessment to develop a custom learning plan for 10+ topics including Microsoft Office, Computer Basics, Internet Basics, and more. Use your results to focus on learning the computer skills you need to be successful and meet your goals.
Central Library Control Your Smartphone Data Open Lab
Schedule
Take control of your digital footprint. Technology Learning Specialist will be on hand to help you implement advice from the Data Detox Kit "Control Your Smartphone Data to Increase Your Online Privacy" such as restricting access to GPS data and uninstalling unwanted apps. Learn more about the Smartphone Data Open Lab.
Central Library Digital Borrowing with your Library Card
Schedule & Register
Learn how to read, watch, and listen on a PC, tablet or phone, as well as search and download materials from the Library's e-book, audiobook, and streaming video collection. A Tech Learning Specialist will be available to answer questions about setting up your device to borrow digital materials.

Central Library Digital Inclusion 101: Webinar and Discussion
Wednesday, December 21 at 2 p.m.
Register
Interested in helping bridge the digital divide? Curious what you can do to help get your community online and help others get the tech skills to be successful? Join the Tech Learning Team for a viewing of the National Digital Inclusion Alliance's Digital Inclusion 101 webinar to learn more.
Central Library Effective Internet Searches - Search Engines
Schedule & Register
Build your skills to effectively find information online using search engines. Practice identifying keywords to write clear search terms and learn to recognize common layouts of search results pages in order to locate the most relevant information.

Central Library Get Inspired with Adobe Capture
Saturday, January 14 from 1 - 3 p.m. Register
Learn to use the free Adobe Capture app on your smartphone or tablet to extract colors, patterns, and more from images and ordinary objects around you. Practice using the app to create color palettes, shapes, and textures. Explore how to save your work for later use in digital art projects.
Central Library The Glass Room: Misinformation Edition Exhibit
Are your clicks, likes, and shares spreading misinformation? The Misinformation Edition of the Glass Room explores different types of misinformation, teaches you how to recognize it, and how to combat its spread. This self-learning installation on data and privacy was developed by Tactical Tech. Located in the Central Library's Tech Learning Lab (1st Floor), this exhibit runs through January 31. Learn more about the exhibit.
Central Library Hour of Code for Adults
Schedule & Register
Celebrate Computer Science Education Week by writing your first lines of code and exploring new technology! Try diffusing a virtual glitter bomb with Python, solve a Star Wars video game puzzle with JavaScript, build a paper circuit, and explore The Glass Room: Misinformation Edition exhibit.
Central Library Internet Basics Open Lab
Schedule
Do you feel confident browsing the web? One way to avoid online misinformation is to know the basics of navigating the internet. Take an assessment from Northstar Digital Literacy during this open lab and discover if you have the foundation you need to stay safe online! Learn more about the Internet Basics Lab.
Central Library Online Research Open Lab
Schedule
Try to solve three scenarios that require you to formulate a research criteria, search online for information, and evaluate the results to find the most correct information source in an assessment from Northstar Digital Literacy. Then, interpret your results and get resources to improve your skills.
Central Library Security Planner
Schedule
Know that you need to tackle your online security, but not sure where to start? Take Consumer Report's Online Security Planner to get a list of actionable steps you can take to take control of your online accounts and data.
Central Library Shift Your Settings: Passwords and Account Security
Schedule
Take control of your digital footprint. A Technology Learning Specialist will be on hand to help you implement advice from the Data Detox Kit "Shift Your Settings to Secure Your Data" such as using strong passwords, turning on two-factor authentication, or using a Password Manager.
Central Library Steer Clear of Misinformation
Schedule
Take control of your digital footprint. A Technology Learning Specialist will be on hand to help you implement advice from the Data Detox Kit "6 Tips to Steer Clear of Misinformation Online" and help you walk through an interactive examples that will help you test your investigative skills.

Central Library Your Digital Footprint
Schedule
Worried you don't understand your digital footprint and the impact it can have on your online and real-world life? Take an assessment from Northstar Digital Literacy and discover what you do and don't understand and discover resources to help you take control of your digital footprint.

Martindale-Brightwood Introduction to Windows 10
Schedule & Register
Learn how to navigate and manage one of the most widely-used computer operating systems!
Online Intro to Google Docs
Schedule & Register
Learn how to create documents such as letters, resumes, and flyers in this series. Join us for only the levels that interest you or all three. This series will demonstrate all skills using Google Docs in Chrome Web Browser on a Windows 10 computer.

Online Kids Coding Club
Schedule & Register
Kids ages 8 and older and teens can join the Learning Curve online to learn about the Scratch programming language and work on a coding project. The emphasis will be on working on different long-term Scratch projects, whether by oneself or with a partner, and socializing with other attendees!
LinkedIn Learning - Take free classes anytime, at your own pace
Learn relevant, professional, technology skills on LinkedIn Learning. Your library card gives you free unlimited access to classes in technology categories like cloud computing, data science, database management, IT help desk, mobile development, network and system administration, security, software development, and web development. Learn how here.