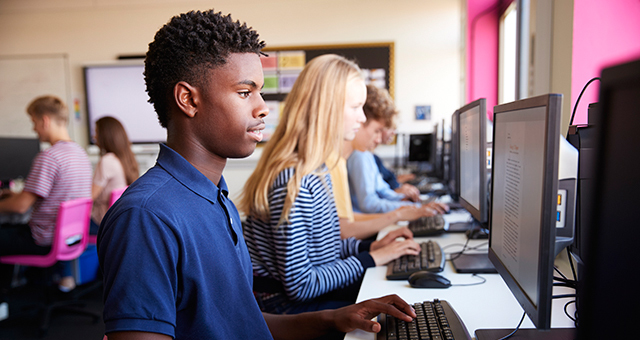 Introduction to Gmail
Schedule & Register
Learn the basics of Gmail including how to register for an account, compose and forward emails, manage your inbox, and best practices for email security!
Introduction to Microsoft Word
Schedule & Register
Discover how to create, format, print, and share documents with text, images, and tables in this three-part introduction to Microsoft Word Online.
Typing Practice and Instruction
Schedule & Register
Adults are invited to learn how to click, scroll, and what to do with some of those strange keys on the keyboard. Get a crash course on computer parts and keys!

Central Library Build Your Technology and Computer Skills with Northstar Digital Literacy
Schedule
Do you want to build your technology skills? Take a skill assessment to develop a custom learning plan for 10+ topics including Microsoft Office, Computer Basics, Internet Basics, and more. Use your results to focus on learning the computer skills you need to be successful and meet your goals.
Central Library Cutting the Cable Cord - Free to Stream
Schedule
Adults looking for cheaper alternatives to pricey cable and satellite television packages are invited to learn about the pros, cons, and costs of streaming platforms such as Amazon and Netflix, including The Library's free streaming services.
Central Library Library Explorer - Borrowing from Your Online Library
Schedule & Register
Explore your online library. Learn to access free e-book and streaming services with your library card. Bring your smartphone or tablet and learn how to use popular library apps and convenient website features to help you find what to borrow next or learn a new skill.

East 38th Street Building Digital Literacy Skills Series
Schedule & Register
Join us at E38 to learn how to handle a mouse and keyboard or learn how to use Microsoft Word.
Lawrence Building Digital Literacy Open Lab
Schedule
Learn new skills with Lawrence library's computer open lab. Basic lessons taught but all skill levels welcome. Lessons include keyboard and mouse basics, intro to email, Microsoft Office suite, and lessons from Northstar Digital Literacy.
Lawrence Senior Technology Help Lab
Schedule
The Help Lab is a monthly program that helps seniors with their technology. Bring your tablets or smartphones for assistance on downloading and using our services, including checking out e-books, audiobooks, and more from OverDrive, Hoopla, Libby.
Martindale-Brightwood Introduction to Windows 10
Schedule & Register
Learn how to navigate and manage one of the most widely-used computer operating systems!
Online LinkedIn Learning - Take free classes anytime, at your own pace
Learn relevant, professional, technology skills on LinkedIn Learning. Your library card gives you free unlimited access to classes in technology categories like cloud computing, data science, database management, IT help desk, mobile development, network and system administration, security, software development, and web development. Learn how here.
Southport Senior Tech Academy
Free four week computer classes - all ages are welcome!