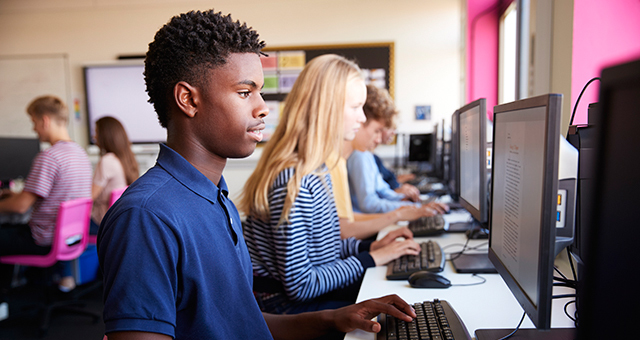 Are You Smarter Than a Scammer? Spotting and Avoiding Online Scams
Schedule
Can you spot a scam? Avoid falling prey to an online scam with simple tips that can help you spot them. Learn about common scam methods, what you should do if you've received a scam message, and practice spotting scams in your e-mail, text, or when browsing online. Celebrate Digital Inclusion Week!
Improve Your Internet Skills
Schedule & Register
Find out how to get things done while staying safe online
Introduction to Gmail
Schedule & Register
Learn the basics of Gmail including how to register for an account, compose and forward emails, manage your inbox, and best practices for email security!
Introduction to Microsoft Word
Schedule
Discover how to create, format, print, and share documents with text, images, and tables in this three-part introduction to Microsoft Word Online.
Typing Practice and Instruction
Schedule & Register
Adults are invited to learn how to click, scroll, and what to do with some of those strange keys on the keyboard. Get a crash course on computer parts and keys!

Central Library Build Your Technology and Computer Skills with Northstar Digital Literacy
Schedule
Do you want to build your technology skills? Take a skill assessment to develop a custom learning plan for 10+ topics including Microsoft Office, Computer Basics, Internet Basics, and more. Use your results to focus on learning the computer skills you need to be successful and meet your goals.
Central Library Creative Coding Afternoon
Schedule
Kids ages 6-17 and their families can join us in the Arena of the Learning Curve to try out different computer games or to program your own using Scratch! Friends with experience creating games can come to share what they have made!
Central Library Cutting the Cable Cord - Free to Stream
Schedule
Adults looking for cheaper alternatives to pricey cable and satellite television packages are invited to learn about the pros, cons, and costs of streaming platforms such as Amazon and Netflix, including The Library's free streaming services.
East 38th Street Building Digital Literacy - Open Lab
Schedule & Register
In this class, you can use NorthStar Digital Literacy to practice the computer skills that are most relevant to you. Create a profile in NorthStar Digital Literacy to access various computer training modules on subjects such as basic computer skills, social media, and Microsoft Excel.
LinkedIn Learning - Take free classes anytime, at your own pace
Learn relevant, professional, technology skills on LinkedIn Learning. Your library card gives you free unlimited access to classes in technology categories like cloud computing, data science, database management, IT help desk, mobile development, network and system administration, security, software development, and web development. Learn how here.
Martindale-Brightwood Introduction to Windows 10
Schedule & Register
Learn how to navigate and manage one of the most widely-used computer operating systems!
Nora Start Building a Free Website with Wix.com
Schedule
Learn the first steps in using the Wix program's free drag-and-drop editor and templates for creating a customized website. No coding knowledge is required!
World Computer Classes
World Computer Classes take place at our Haughville, Nora, Eagle, West Indianapolis, Garfield Park, and Central Library in partnership with Digital Synapsis. Currently offered in Spanish, IndyPL plans to offer classes in more languages in the future. Typical classes include topics like how to use Google Workspace and getting to know or deciding on a device that is best for you. Topics such as these are important for success in school, business, or just personal use. Check our online calendar for World Computer Classes sessions.