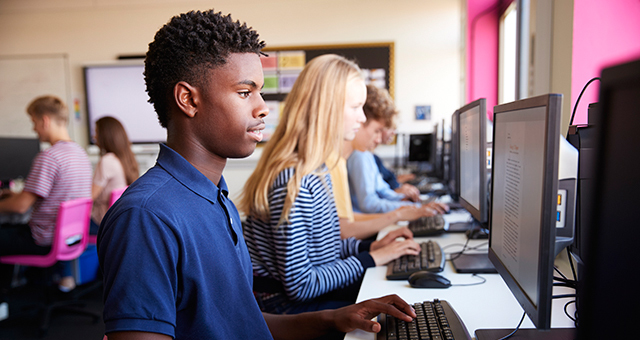 Become a Virtual Senior
Schedule & Register
Become a Virtual Senior is all about helping seniors stay connected by improving knowledge of the internet, useful websites or apps, and tech devices. Registration is required.
Introduction to Microsoft Excel
Schedule & Register
Learn how to create spreadsheets with Microsoft Excel Online, the free online version of Excel.
Introduction to Gmail
Schedule & Register
Learn the basics of Gmail including how to register for an account, compose and forward emails, manage your inbox, and best practices for email security!

Introduction to Microsoft Powerpoint
Schedule & Register
Discover how to design, format, and share presentations with text, images, and tables in this three-part introduction to Microsoft PowerPoint. This series will demonstrate all skills using PowerPoint in a web browser on Windows 10.

Introduction to Microsoft Word
Schedule & Register
Discover how to create, format, print, and share documents with text, images, and tables in this three-part introduction to Microsoft Word Online.
Typing Practice and Instruction
Schedule & Register
Adults are invited to learn how to click, scroll, and what to do with some of those strange keys on the keyboard. Get a crash course on computer parts and keys!
Clase de Informática - Dispositivos Electrónicos
Schedule & Register
Ven y aprendre los diferentes tipos de dispositivos y sistemas operativos. También hablaremos sobre nuestros dispositivos móviles como la computadora y tendremos el entendimiento de cómo mantener nuestra información segura mientras usamos las última tecnologías. Las clases son en el primer piso.

Clase de Informática - Dispositivos Electrónicos e Internet
Schedule & Register
En esta clase, los participantes aprenderán sobre el Internet y los navegadores. Nosotros exploraremos las cosas diferentes que pueden hacer usando sitios web y aplicaciones para dispositivos móviles. Hablaremos sobre siendo Seguro usando el Internet.
Clase de Informática - Google Workspace (Espacio de trabajo)
Schedule & Register
Google Workspace (Espacio de trabajo) | En esta clase, aprenderemos sobre las diferentes herramientas que Google Workspace ofrece. Destacaremos Gmail, Maps, Google Drive y Search. Los participantes comprenderán cómo usar Google Docs, Google Sheets y Google Slides. Las clases son en el primer piso.

Central Library Build Your Computer Skills: Effective Internet Searches
Schedule & Register
Build your skills to effectively find information online using search engines. Practice identifying keywords to write clear search terms and learn to recognize common layouts of search results pages in order to locate the most relevant information.
Central Library Computer Basics: Mouse and Keyboard Skills
Schedule & Register
Adults with little or no experience in using a computer are invited to learn skills needed to use a computer to get things done. You are encouraged to attend all three sessions but may choose to join us for any single session if you wish.
Central Library Pathways into Tech: Cloud Computing
Saturday, August 20 from 2 p.m. - 4:30 p.m. Register
Explore emerging pathways into technology including the growing Cloud Computing industry in Indianapolis. Register now to reserve your spot and get notified with the latest news.
Garfield Park Digital Resources Through the Library
Saturday, October 22 at 11 a.m. Register
Did you ever want to find an old yearbook photo, learn a new skill, or check out the library edition of Ancestry.com? This class will show you where to find these resources on the Library website.
Garfield Park Fast and Accurate Searching
Wednesday, September 7 at 3:30 p.m. Register
Have you ever felt like you have dropped down a rabbit hole just trying to search for something online? This class will give you some helpful hints on the quickest way to find what you are looking for before you turn into the Mad Hatter.

Garfield Park Online Safety & Privacy
Saturday, September 24 at 11 a.m. Register
Come learn how to be safe online and keep your personal information private.
Garfield Park Senior Resources
Saturday, August 22 at 11 a.m. Register
Computers still seem like a foreign language? This class will provide resources to help you better understand and navigate computers.
Lawrence Try Digital Borrowing: e-Books, Movies, Magazines, and More!
August 10 at 11:30 a.m. Register
Learn how to read, watch, and listen on a PC, tablet or phone, as well as search and download materials from the Library's e-book, audiobook, and streaming video collection. A Tech Learning Specialist will be available to answer questions about setting up your device to borrow digital materials.
Online Class Zoom for Beginners
Thursday, August 11 from 10:30 a.m. - 12:30 p.m. Register
Zoom has become one of the most commonly used video conferencing software. This Zoom Lab will help you become a confident Zoom user ready to participate in online meetings and other library Zoom programs! This class is for beginners so don't let technology issues stop you from attending!

West Perry Are You Smarter Than a Scammer?
Tuesday, August 16 from 2 p.m. - 4:00 p.m. Register
Can you spot a scam? Avoid falling prey to an online scam with simple tips that can help you spot them. Learn about common scam methods, what you should do if you've received a scam message, and practice spotting scams in your e-mail, text, or when browsing online.

LinkedIn Learning - Take free classes anytime, at your own pace
Learn relevant, professional, technology skills on LinkedIn Learning. Your library card gives you free unlimited access to classes in technology categories like cloud computing, data science, database management, IT help desk, mobile development, network and system administration, security, software development, and web development. Learn how here.