Children Ages 0 to 5 Can Vote!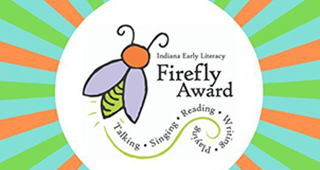 The Indiana Early Literacy Firefly Award is given by the Indiana Center for the Book. Every year children listen to the nominees and vote for their favorite. The nominees for the 2023 have been announced.
1. Watch a video read aloud of each of the five nominated books and then vote for your favorite!
2. Submit your child's choice by using this online form. One vote per child. The last day to vote is July 31, 2023.
3. Add to the fun with activities prepared by Indiana Center for the Book and the Indiana State Library as well as this Firefly activity sheet.
Reading Ready is an Indianapolis Public Library early learning initiative that encourages the five practices that help children get ready to learn how to read: reading, singing, writing, talking, and playing.