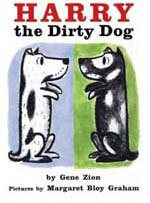 Kids love dogs. Our librarians do too! When asked which book dogs are their favorite for storytime, Harry the Dirty Dog and Bark, George won by a landslide! Harry is the story of a pooch who doesn't want to take a bath. George is about a puppy whose mother can't seem to teach him how to bark. "Meow," says George! Watch the video of Betty White reading Harry the Dirty Dog right now!

Talk!
After listening to the story, talk about some of the things that happened in it.

What does Harry look like?
What does Harry do to avoid taking a bath?
Why does Harry decide to leave home?
What did Harry do to show his family who he was?
---

Read!
Click on one of the book covers below and listen to more dog stories read aloud. You can see all the librarians' selections below to make bedtime just as much fun as storytime!
Find more FREE online reading at 100+ Free Video Read Alouds or try storytime at home!
You can use your IndyPL library card to check out e-books, audiobooks, and other streaming content about dogs from home, right to your device. See our digital dog collection from Axis 360 Kids and OverDrive Kids, or come visit us!
Need help? Ask a Library staff member at any of our locations or call, text or email Ask-a-Librarian.
---

Sing!
Are you ready for a PAW Patrol sing along? PAW patrol is on a roll with this compilation of PAW Patrol nursery rhymes!
---
Write!
Find some crayons or makers to color a picture, practice writing the letters, or see if you can follow your way through a maze without getting stuck.

---

Play!
Set up an outdoor hunt, but instead of Easter eggs, hung for dog bones! Or, instead of "Simon Says" play "The Dog Trainer Says" so kids can sit, bark, stay, and fetch, just like their favorite dog storybook characters.
---

---