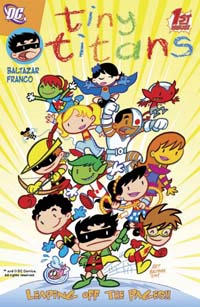 Tiny Titans Leaping Off the Pages is the first issue of DC Comics' Tiny Titans series that stars child-sized versions of the DC Teen Titans characters. In this introductory issue summer break is over. The tiny titans Robin, Batgirl, Wonder Girl, Kid Flash, and Speedy are back at Sidekick Elementary School. It is time to turn their super powers toward adjusting to a new principal and that universal kid dilemma...what to wear to school!
DC Comics has published this first issue free online. Have fun introducing your child to these beloved comic book characters, "Aw yeah, Titans!"
Listed below are more superhero stories you can read right now, printables and online activities.
Use your IndyPL library card to check out e-books and audiobooks from home right to your device. These links will show you all the choices:
Need help? Please call 317-275-4184 or text 317-333-6877 during regular Central Library hours, message us on social media, or contact the webmaster.
FREE Online Superhero Comic Books:
More FREE Online Reading:
---
Printables, Crafts & More: