As Thanksgiving approaches, you may be looking for ways to share with children the importance of family, community, and gratitude, as well as for ways to give them an age appropriate introduction to the shared history of early colonists and the Indigenous Peoples who lived here first.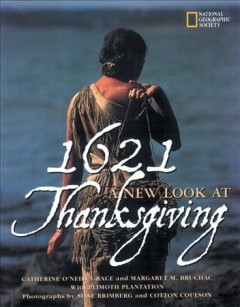 According to American Indians in Children's Literature (AICL), a good place to begin learning about what historians understand so far about the Plymouth Colony during the 1600s, is 1621 a New Look at Thanksgiving. The book's illustrations are full color photographs taken at Plimoth Patuxet Museum, an immersive environment in Massachusetts, much like Connor Prairie. While you will want to point out that the people in the photographs are reenactors dressed and behaving in historically accurate ways, the opportunity to "see" actual people might help your child process the "realness" of the story they are hearing. This is also a good opportunity to point out that both the colonists and the Wampanoag have descendants that are living today. It is a common misconception of children that Indigenous People only existed in the past.
The book tells the story of the two distinct cultures, the English colonists who arrived in Plymouth Harbor on the Mayflower, and the Wampanoag, who lived in the same area. The book specifically shares what is known about the actual events that happened during the three days the Wampanoag and the colonists came together to share both information and food. To learn more, enjoy this virtual field trip produced by the Plimouth Patuxet Museum that depicts what is known about this meeting.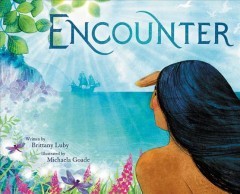 For kids who enjoy a narrative story, Encounter is an imagined telling of the day explorer Jacques Cartier's ship arrived in Gaspé Bay Canada, where Stadaconan People lived. The story is a great introduction to help kids imagine what a first meeting between Europeans and Indigenous Peoples might have been like. The story is written by Britanny Luby, of Anishinaabe descent, and illustrated by Michaela Goade, of Tlingit descent. The book is based on the diary of Jacques Cartier as well as other historical scholarship. In this video, listen to Britanny Luby read Encounter aloud, as well as talk about the importance of helping children see the perspective of Native Peoples.
---
Booklists:
Make a selection from one of these lists to enjoy a rich variety of family traditions that are celebrations of food and gratitude.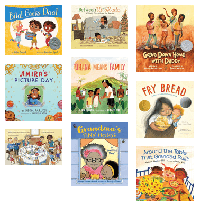 ---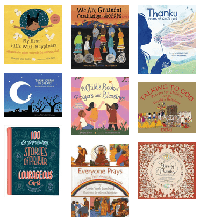 ---