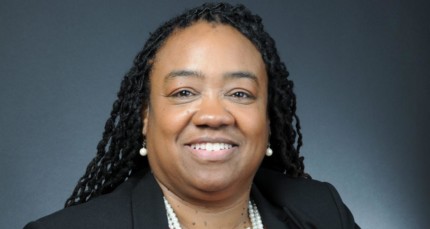 Nichelle M. Hayes, special collections librarian of The Indianapolis Public Library's Center for Black Literature & Culture (CBLC) at Central Library, was one of 46 people honored as a 2021 "Mover and Shaker" by the national publication Library Journal. Founded in 1876, Library Journal is one of the oldest and most esteemed trade publications covering the library field and has the highest circulation of any librarianship journal.
Hayes, who has led the CBLC since its opening in 2017, was nominated alongside nine other "advocates" due to her work as a project manager, curator, marketer, librarian, program specialist, and African diaspora subject matter expert. The CBLC has hosted book clubs, writing groups, art exhibits, concerts, fashion shows, and has welcomed several notable people to the space. Hayes fondly remembers the day actress Vivica A. Fox visited the CBLC. Fox became emotional when she noticed her portrait alongside other influential Black individuals from Indiana.
Hayes said community partnerships help the CBLC thrive. For example, when local artists of color were commissioned to paint murals on the wood that was used to cover downtown windows amid protests of the police-involved killings of George Floyd, Breonna Taylor, and Dreasjon Reed, the CBLC partnered with artist and urban researcher Danicia Monét and the Arts Council of Indianapolis to ensure that the murals are archived as a part of Indianapolis history. Because of the partnership, individuals can view and check out replicas of the murals from The Library. Hayes is thankful for all the ways the Indianapolis community has encouraged her.
"The way that I define success is that the community has supported me wholeheartedly with these programs," Hayes said. "People will come up to me and thank me for bringing this person or that person to the CBLC. I think success is community support and people encouraging you. I hope that I can continue to help the community, and the encouragement shows I'm on the right track."
In addition to showcasing an impressive collection of books and other materials that celebrate the African diaspora, which are also available throughout the IndyPL system, the CBLC provides a freely available space where Black culture is studied, reflected and honored.
"We want the CBLC to be a third place, not work or home, where people can gather formally or informally, to study, read, or maybe just goof off and relax," Hayes said. "One of our really powerful programs was when we read "What to the Slave is the Fourth of July?" by Frederick Douglass a few years ago. There were 70 people in the CBLC with no bells and whistles; no music, food, or flashing lights. Just people reading in the community, unpacking it, and talking about how we can move forward."
Hayes graduated from Arlington High School in Indianapolis and says she wouldn't have made it where she is today without the support of teachers and family. She hopes her work will inspire Black people who are interested in entering the library field.
"I really want Black people who are looking to go into librarianship to see that there is a path for them," Hayes said. "I'm hoping I can open more doors."
Jackie Nytes, the CEO IndyPL, said it has been a privilege to develop and support the CBLC since its inception. "Nichelle has passionately guided such wonderful programs for our patrons and introduced the Center to so many in the community," said Nytes. "We are excited to be working together with the Library Foundation to continue the next phase of the CBLC with interactive educational resources later this year."
Nominator Twanna Hodge, diversity, equity, and inclusion librarian at the University of Florida Libraries, says the CBLC's success is due to "the way in which Hayes has combined forces with different organizations and community groups that have similar goals. These coalitions have enabled wonderful programs to take place and have exposure to large sections of the community."
If you are interested in interviewing Hayes about her work with the CBLC, please reach out to her here.