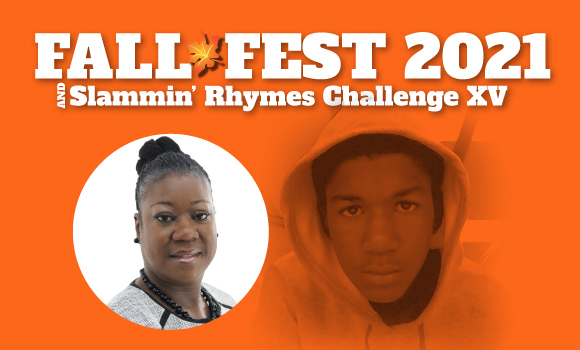 Our annual Fall Fest took place Saturday, November 20, 2021 at
Central Library. Our featured guest was Sybrina Fulton, Trayvon Martin's mother.
Since the death of her 17 year old son during the violent confrontation in 2012, Sybrina Fulton has become an inspiring spokesperson for parents and concerned citizens across the country. Her book, co-authored with Tracy Martin, Rest in Power: The Enduring Life of Trayvon Martin, shares the intimate story of a tragically foreshortened life and the rise of a movement that awoke a nation's conscience.
Other performers included:
SwirlEshe Hula Hoop Fitness
317Svn Street Dance Academy
Bounce Back Indiana Kangoo Bounce Fitness
Chanteil Bradley, Poet
The Slammin' Rhymes XV contest awards presentation to poets, rappers and spoken word artists in grades 7-12.
Don't miss Fall Fest 2022! We will let you know who are featured guest and performers are closer to November, 2022. Check our site in September and October to get an entry form for the Slammin' Rhymes XVI contest!
This program is made possible by Donna D. Talley Story Theatre Fund and Friends of the Library through gifts to The Indianapolis Public Library Foundation.