Many American families gather for Thanksgiving, a day to share food, family memories, and gratitude for both. While the arrival of early settlers and the colonization of North America is part of our shared history as Americans, it is important to learn and remember the full history of colonization and the reality that it included centuries of genocide, the theft of land, and oppression.
Indigenous Peoples in America recognize Thanksgiving as a day of mourning. It is a time to remember ancestral history as well as a day to acknowledge and protest the racism and oppression which they continue to experience today. Since 1970 there has been a gathering at the Plymouth rock historic site in Massachusetts on Thanksgiving Day to commemorate the National Day of Mourning. The United American Indians of New England will host the 52st Annual National Day of Mourning on November 25, 2021. Their message is "We Are Not Vanishing. We Are Not Conquered. We Are As Strong As Ever." Watch their website about livestreaming information for that day.
In this video from the National Museum of the American Indian, Paul Chaat Smith (Comanche) co-curator of the exhibit Americans, looks at why the Thanksgiving story is so important to the United States' image of itself as a nation.
Listed here are links to explore more American Indian perspectives about Thanksgiving: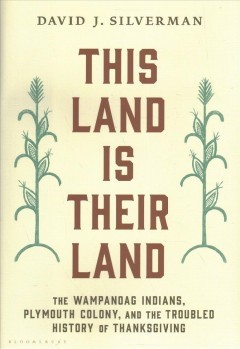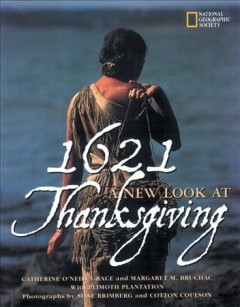 In our collection, two notable titles about Thanksgiving are, for adults, This Land Is Their Land: The Wampanoag Indians, Plymouth Colony, and the Troubled History of Thanksgiving by David J. Silverman, and for children, 1621: A New Look at Thanksgiving by Margaret M. Bruchac (Abenaki) and Catherine Grace O'Neill. For more resources for kids see Talking to Kids About Thanksgiving.
Learn about the people whose land you live on.
Native Land is an interesting interactive map. Enter your address and get an answer to "You are on the land of..." The map will tell you the name of the Indigenous People who once lived where you live. Besides curiosity, why would a person want to know this? The creators of the map hope to encourage discussion and increase awareness about Indigenous history and the diverse cultures of Native People. There is a teacher's guide to go with the map which is also helpful.
Read books written by Native authors.
There have been a number of books published by Indigenous authors to share Indigenous perspective for both adults and children. We can help you find them!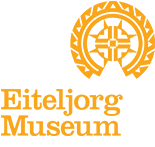 The Eiteljorg Museum has put together a list of suggested further viewing and watching here. Their author selections range from history to science fiction, to autobiography, horror and poetry. You can see some of their recommendations linked to the Library catalog here.
In addition the museum has a Spotify playlist of the diverse sounds of Indigenous Peoples.
You can get a preview of what you might see visiting the Eiteljorg Museum by looking at some of items in their collection of Native American Art online.
---
More Reading for Adults and Teens:
First Nations publishes a list of essential reading for anyone interested in learning about the Native American experience.
"Many of us here – as Native Americans, avid readers, activists for improving Native American economies and communities, and as direct participants in the Native American experience – believe that we are uniquely positioned to suggest this reading list," said First Nations President & CEO Michael Roberts. "We attempted to include many facets of the Native American experience, as well as books and research reports that would be of interest to a broad variety of readers."

First Nations indicates on the list which titles are especially good ones to start with. Here are a few of their selections. You can see the full list here.

Bury My Heart at Wounded Knee by Dee Brown
"Eloquent, heartbreaking, and meticulously documented, Bury My Heart at Wounded Knee follows the systematic destruction of the American Indian during the second half of the 19th century. Using council records, autobiographies, and firsthand descriptions, Brown's work highlights the voices of those American Indians who actually experienced the battles, massacres, and broken treaties."
print | e-book (OverDrive) | audiobook (OverDrive)
---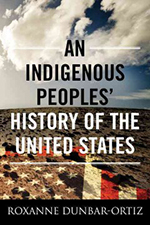 An Indigenous Peoples' History of the United States by Roxanne Dunbar Ortiz
"Historian and activist Roxanne Dunbar-Ortiz offers a history of the United States told from the perspective of Indigenous peoples and reveals how Native Americans, for centuries, actively resisted expansion of the US empire. Dunbar-Ortiz challenges the founding myth of the United States and shows how policy against the Indigenous peoples was colonialist and designed to seize the territories of the original inhabitants, displacing or eliminating them."
print | e-book (OverDrive) | audiobook (OverDrive)
---
Do All Indians Live in Tipis? Questions & Answers from the National Museum of the American Indian
"Debunking common myths and providing information about everything from katsina dolls to casinos and Pocahontas to powwows, Native staff members at the National Museum of the American Indian have handled a wide array of questions over the years. This book presents nearly 100 of their answers. This accessible and informative book counters deeply embedded stereotypes while providing a lively introduction to diverse Native histories and contemporary cultures."
print | e-book (Axis 360)
---
Everything You Wanted to Know About Indians But Were Afraid to Ask by Anton Treuer
"Treuer, an Ojibwe scholar and cultural preservationist, answers the most commonly asked questions about American Indians, both historical and modern. He gives a frank, funny, and personal tour of what's up with Indians, anyway."
print
---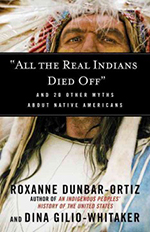 "All the Real Indians Died Off" and 20 Other Myths About Native Americans by Roxanne Dunbar Ortiz
"Dunbar-Ortiz shows how myths about Native Americans are rooted in the fears and prejudice of European settlers and in the larger political agendas of a settler state aimed at acquiring Indigenous land and are tied to narratives of erasure and disappearance. All the Real Indians Died Off challenges readers to rethink what they have been taught about Native Americans and history."
print | e-book (OverDrive) | audiobook (OverDrive)
---