Fall Fest 2021 featuring Sybrina Fulton, mother of Trayvon Martin, as keynote speaker
11/04/2021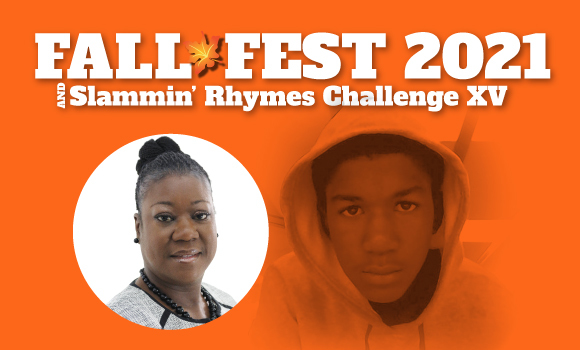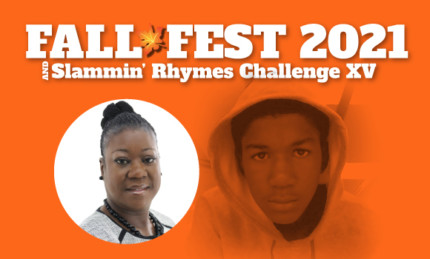 Enjoy an afternoon of inspiration and cultural entertainment at IndyPL's Fall Fest 2021 and Slamming Rhymes Challenge XV. Poets, dancers, speakers, and performers will uplift attendees at this all-ages event taking place on November 20 from noon until 4 p.m. at Central Library's Clowes Auditorium. Sybrina Fulton, the mother of Trayvon Martin, will headline the event as keynote speaker.
After the death of her son Trayvon Martin during a violent confrontation in 2012, Fulton turned her grief into advocacy. She is a spokesperson for parents and the co-author of the book, "Rest in Power: The Enduring Life of Trayvon Martin," in which she shares intimate stories of her son's life and the rise of a movement that awoke a nation's conscience. Fulton's speech will be followed by a Q & A session and a book signing. Fall Fest will also feature performances by SwirlEshe Hula Hoop Fitness, 31Svn Street Dance Academy, Bounce Back Indiana Kangoo Jump Fitness, and poet Chanteil Bradley.
Teen poets, rappers, and spoken word artists in grades 7-12 are encouraged to participate in the Slammin' Rhymes Challenge XV. This year's theme is "Dream Big/#staywoke/Change," and teens can enter the contest by submitting a poem at spirit.indypl.org/slammin. Ten students will be selected to read their poems during the event. The deadline for entry is November 5, 2021.
This program is presented by The Indianapolis Public Library's African-American History Committee in support of the Center for Black Literature & Culture at Central Library and made possible by Donna D. Talley Story Theatre Fund and Friends of the Library through gifts to The Indianapolis Public Library Foundation. This festival is free and open to the public - learn more HERE.