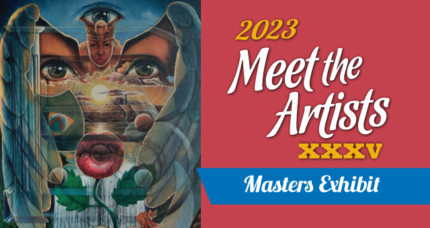 Meet the Artists, an annual exhibit celebrating Indianapolis' prominent African American artists, returns to celebrate its 35th anniversary at Central Library with work on display from February 1 through March 25, 2023. It is presented by IndyPL's African American History Committee in support of the Center for Black Literature & Culture each year.
Additionally, the public is invited to a free gala opening reception on Saturday, February 11 from 5:30 – 10:00 PM, hosted by special guests Steve "Scoop" Jefferson and Karen Campbell, former and current talent of WTHR, respectively. Featured entertainment at the event will include a fashion show, live music and DJ, poetry, dance, magic, workshops for kids, and the full gallery of 2D, 3D, written, and youth artwork on display.
"Art and culture are as important to The Library's mission of lifelong learning as books and computers, and we are excited to be celebrating 35 years of showcasing local art for our patrons," said Cordia Watkins, circulation manager and chairperson of the IndyPL African American History Committee. "We invite you to see how this artwork inspires your own thoughts, feelings, or conversations."
A variety of art styles will be on display at Central Library, including large sculptures, paintings, and jewelry. In addition, the written works of local Black authors will be on display.
"It is a privilege to serve with my colleagues on the Library's African American History Committee, and to bring programs like this to the public," said Gregory Hill, acting CEO of The Library. "We hope to see a large crowd for the gala and fashion show and that many patrons stop by over the next several weeks to see the galleries of this compelling local art."
Meet the Artists XXXIV is made possible by Christel DeHaan Family Foundation and Friends of the Library through gifts to The Indianapolis Public Library Foundation. Learn more and see a full gala schedule here. Artists are listed below.
Master Artists: South Display Hall, Simon Reading Room and the Center for Black Literature & Culture
· Anthony Radford
· Billy Rent
· Bruce E. Armstrong
· Carl Hazelwood
· D. Del Reverda-Jennings
· Empress Marlena
· Jerome Chambers
· Ken Skelton
· Kenneth Cousin
· Kevin James Wilson
· Lenny White
· Lodi Drane
· Michael (ALKEMI) Jordan
· Patricia Gaines
· Rod Trabue
· Saundra Holiday
· Stacey Torres
· Terry Wilson
· William B. Rasdell
· William H. Stephens
Textile Artists | Upright Display Cases on Floors 3-5
· Antoinette Hatchett
· My Ear Kandy – George
· Rita Rent Boyd
Large Sculpture Artist | Installation on Floors 3-4
· LaShawnda Crowe Storm
Reclaimed Youth Exhibit | Floor 5
· N.E.R.D.S
Youth Artists | Display Cases in Simon Reading Room
· Eddie Miles
· Nasim Miles
Authors | Display Case Floor 3
· Shajuana Franklin INC Net
· Emma Camp
· Erica Petty Saunders
· Clete Ladd