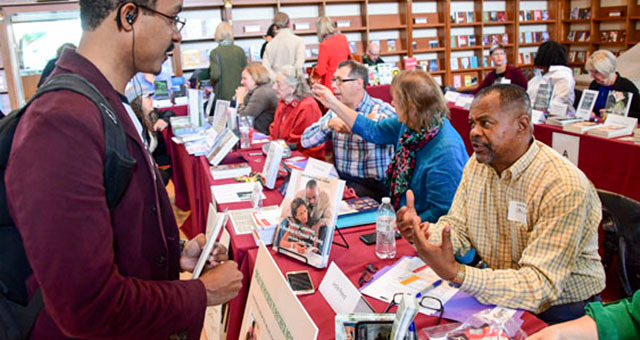 Join fellow writers Saturday, August 6 from 11:00 am to 4:00 pm for an afternoon devoted expressly to Indiana's talented authors. Meet and network with up-and-coming Indiana authors. Add to your writing toolbox with workshops led by experts. No registration is required.
Made possible by Friends of the Library through gifts to The Indianapolis Public Library Foundation.
---
Writing Workshops
Summer 2022
Journaling: An Essential Tool in the Writer's Toolbox with John F. Allen
Schedule & Registration
Learn the importance of journaling for a writer and how to get started. We will cover various types of journals, journal formats, and how they are essential tools which writers can use to corral and organize their ideas, work out thematic issues, use as an emotional release, and so much more!
Nature Journaling with Dominique Weldon
Schedule & Registration
While many of us may live in dense towns or cities, we can still take the time to appreciate the earth. In this workshop, we will not only closely observe, but write about our environment.
Read Outside: Contemporary Writers with Jessica Reed
Schedule & Registration
We will study passages from contemporary writers like Robert Macfarlane, Robin Wall Kimmerer, and Merlin Sheldrake. Then we will write our own short exercises and share them with each other.
Read Outside: Poetry and Journaling with Nick Reading
Schedule & Registration
Through writing that speaks to the theme of community, between the writer and themselves, between the writer and the reader, and between the writer and the natural world, we will reflect on our purpose for writing.