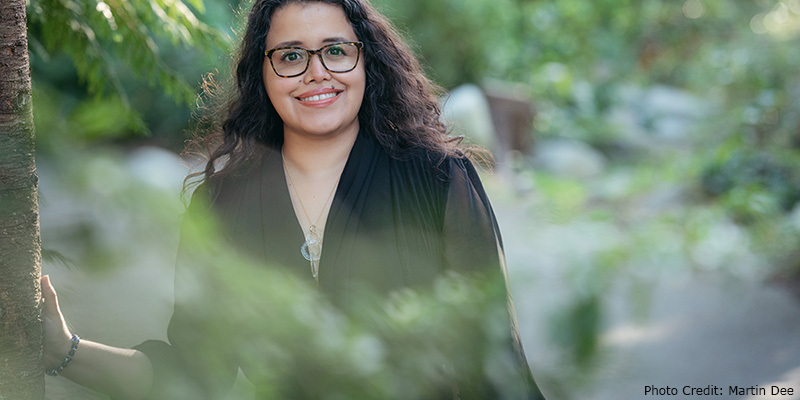 Bestselling novelist and British Fantasy Award and Locus Award winning author Silvia Moreno-Garcia will be the featured speaker at our 44th Annual Marian McFadden Memorial Lecture.

Due to unforeseen circumstances, the lecture, previously scheduled for March 16, 2023, has been postponed until 7 p.m. on Thursday, September 28 at the Madam Walker Legacy Center.

If you already had a ticket for the March 16 date, your ticket remains valid for the September date. Please look for updates from The Library closer to the event.
If you are on the waitlist, you will keep your spot. IndyPL will share updates with you through Eventbrite as seats become available.
If you do not currently have a ticket, please check back on this page this summer to see if more tickets have become available.
For updated information as we get closer to the event, please check back on this page or email tellus@indypl.org.
IndyPL is hosting additional author events throughout 2023. To learn more and register, check indypl.org/calendar.
Mexican by birth, Canadian by inclination, Silvia Moreno-Garcia is the author of a number of critically acclaimed novels, including Gods of Jade and Shadow (Sunburst Award for Excellence in Canadian Literature of the Fantastic, Ignyte Award), Mexican Gothic (Locus Award, British Fantasy Award, Pacific Northwest Book Award, Aurora Award, Goodreads Award), and Velvet Was the Night (finalist for the Los Angeles Times Book Prize and the Macavity Award).
She has edited several anthologies, including She Walks in Shadows (World Fantasy Award winner, published in the USA as Cthulhu's Daughters). Silvia is the publisher of Innsmouth Free Press. Her fiction has appeared in numerous magazines and anthologies.
She has an MA in Science and Technology Studies from the University of British Columbia. She lives in Vancouver, British Columbia.