Stuck? Confused? In a hurry? Don't give up...we can help! Library staff can help direct you to the resources you need. You can reach us in several ways:
Visit Ask a Library staff member at any of our locations for assistance.
Call-a-Librarian Call any branch during regular business hours. Check out our locations page for phone numbers and hours.
Text-a-Librarian Send a text to 317-333-6877 for quick questions and quick replies to connect you to the information you need. Your question will be answered within 24 hours (barring holidays). Message and data rates may apply, depending on your phone plan.
Email-a-Librarian If you need to send some details and get a written response, shoot us an email via our contact form. This might be helpful if you hope to get an answer that contains links to web content.
Call the Tinker Station Tech/Device Helpline The Tinker Station helpline at (317) 275-4500 is staffed by device experts who can answer questions about how to read, watch and listen on a PC, tablet or phone, as well as search and download materials from the Library's extensive collection of e-books, e-audiobooks and digital music.
---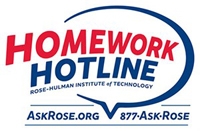 Ask Rose Homework Hotline
We also suggest trying the Ask Rose Homework Hotline. You can ask a math and science expert for homework help by calling the hotline. They provide FREE help to Indiana students in grades 6-12.
Rose-Hulman tutors are available Sunday through Thursday from 7-10 p.m. (Eastern Time) by video, telephone call, email or chat. Tutors can be accessed via the AskRose website or by calling 877-ASK-ROSE (877-275-7673).
The AskRose website also offers more than 500 resources available through videos and downloadable reference materials.
---
Check Out e-Books and More from Home
Did you know your IndyPL Library card gives you free access to e-books, music, movies, audiobooks, online courses and more? You can read or listen to books on most mobile devices or your computer.
We partner with several different platforms to provide these services the same way you might subscribe to more than one movie streaming platform (Netflix, Hulu, Disney+) at home.

To see all of our digital collections, go to our e-Books & Streaming page. On that page each service has its own tile to tell you details like loan limits and provide links to each service's website or app. Video tutorials are available for each one.
Some of the services will simply ask you to enter your library card number. Others will require you to set up an account. Either way, your library card number is your ticket to get access. If you do not have an IndyPL library card or need to renew your card, you may be able to apply or renew online.
To assist you, we have created these pages to help you get started:
---
Do Research Online

The Library also offers dozens of online resources you can access anytime, anywhere. There are several topics you can choose from on our Research page, or you can go directly to Homework Help categories for Grades K-5 and Grades 6-12.
---
Science Fair Help
Looking for an idea for a science project? Here are several science experiment ideas that use materials easily found in your house. A couple of them might require a trip to the grocery store or pharmacy, but mostly you can just raid the garage, kitchen, or medicine chest for the ingredients. Each experiment will give you directions as well as suggest websites and books that will help you explain what science is at work during the experiment.
---
Khan Academy
Khan Academy provides free video tutorials and online exercises for students in math, art, computer programming, economics, physics, chemistry, biology, medicine, finance, history, and more. They provide several helpful tips and tools for self paced learning including daily schedules for several grade levels.

---
The HSE is an alternative for earning a high school diploma in Indiana. An HSE Diploma can be earned after completing a test based on five subject areas (math, reading, writing, science and social studies). Practice tests are available at Testing and Education Resource Center. (From your personal computer, you'll need to log in with your library card number.) If you have specific questions about the HSE dial 2-1-1 to connect with a navigator. (NOTE: This diploma used to be called the GED or TASC.)