Skip the Wait!
Hold lines for e-audiobooks can get very long for new and popular titles, but there are actually thousands of e-audiobooks available with no hold line. These available titles are often not brand new, but they are what was new last year or the year before. Many are award winning or otherwise wonderful! Here are some tips and tricks for finding e-audiobooks to check out immediately.
1. Recent e-Audiobooks with Shorter Hold Lines

Here are four lists of audiobooks from the last few years that might be good bets for finding a good one that does not currently have a hold line. These suggestions come from an IndyPL librarian and audiobook listener. Save yourself waiting in line! Let IndyPL_ElizabethS help!
2. OverDrive/Libby Direct Links to Available Titles
3. Hoopla Unlimited borrowing on select titles
Hoopla has created a collection of bonus borrows that don't count against your monthly borrowing limit. You can borrow as many as you'd like!
4. TumbleBooks for kids are unlimited use
The TumbleBook Library (Pre-K through grade 3) has no loan limits and no waiting.
5. Call-a-Story

Children can hear a story seven days a week on our Call-a-Story phone line. Call (317) 275-4444 or toll free at (877) 275-9007.
6. Free Video Read Alouds

Children also shouldn't miss 100+ Video Read Alouds and 100 MORE Free Video Read Alouds (these do not require a library card). Choose from old classics like Where the Wild Things Are or a newer favorite like Little Jumbo. It isn't library story time...but you will still hear "I want to hear it again!" Also try 500+ e-Book & Video Read Alouds for Kids (these also do not require a library card.) There are even more opportunities for learning how to find children's books that are read aloud online at Share Stories, Games, and Activities with Children. These include streaming picture books, online read alongs, and online story time.
7. Audible - Free streams while schools are closed
Audible, Amazon's e-audiobook library, has also announced it is offering free streams on a select number of children's stories. See the Free Audible Library. The service will be available for as long as schools are closed. The books are separated into six categories: "Littlest Listeners," "Elementary," "Tween," "Teen," "Literary Classics" and "Folk & Fairy Tales for All." Books are available in English, Spanish, French, German, Japanese and Italian.
---
Tips for Searching Overdrive
After doing a search in OverDrive you can narrow your results down to just available e-audiobooks by using the "Available Now" filter. It is on the left side of the screen.

If you use OverDrive's Libby app: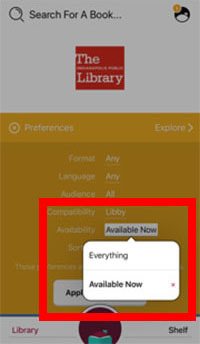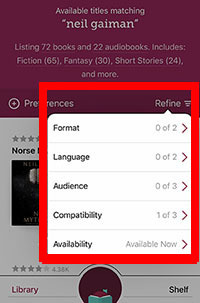 You can set a preference so that you only see titles that are "Available Now". As you search, results will only be titles that are immediately available. If you do this, you will need to remember to change your preference back to "Everything" when you want to see the entire collection again and put titles on hold if they are not available.
If you don't want "available now" as a default preference setting, you can click on "Refine" after any search to open up a drop-down menu. The last choice is "Availability". Choose "Available Now".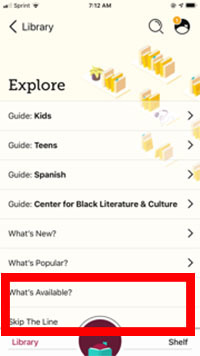 Two great options for simply browsing available titles are both under the "Explore" option on the Libby app. If you choose "What's Available" you can see a list of available e-audiobooks that are simply in order by popularity. Just scroll through and pick one to listen to.
The "Skip the Line" list is a little different. We call these "Lucky Day" also. These are titles that DO have long wait lists, but you get to skip to the top of the wait list if you choose one of them. They are, however, a 7 day checkout and are not renewable. It's like winning the lottery. It's your lucky day!
Tips for Searching Axis 360
The Axis 360 website and app look very similar. On the right you can choose if you want to see only available titles. Click on the upside down arrow and choose "Available Now". Once you do that, no matter what search you do, you will only be shown titles that are available for checkout. Axis 360 will remember this setting for the current session you are in, but as soon as you log out, it will forget it. You will have to choose that option again the next time you search.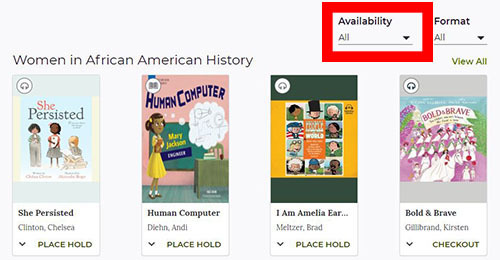 If you just want to narrow down search results to "available now" as you go, search as you normally would and then use the "REFINE" feature on the right. Choose "Availability" and then select "Available Now".
Tips for Searching the Library Catalog for Available E-Audiobooks
Use the filters on the left to narrow down your search results. After entering your search, choose the format filter "Downloadable Audiobooks". If you only want to see the e-audiobooks that are immediately available, use the "Available Now" filter. Click on the upside down arrow next to the words "Available Now." A list of locations will appear. Scroll to the end of the list and choose "show more". When that screen opens select "IndyPL - Web". Click the "x" to close the window. Your results will now be the e-audiobooks in your search results that do not have any holds on them.

Do you need help learning how to download and stream library materials? Contact the Webmaster or Call-a-Librarian at 317 275-4184.