We have thousands of audiobooks for kids, teens, and adults on various platforms. All can be checked instantly with a library card. Each audiobook platform is unique, learn how to use each platform below.
You can check out audiobooks from each platform's website or app. You can also check out most (but not all) audiobooks directly from the library catalog.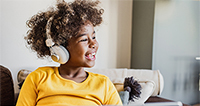 See Audiobooks for Kids for additional platforms designed specifically for children featuring audiobooks, read alongs (the words appear as the story is read) and video read alouds.
Need help? Ask a Library staff member at any of our locations or call, text or email Ask-a-Librarian.

---
OverDrive/Libby

OverDrive has audiobooks for adults, teens, and children. You can borrow up to 20 titles using your IndyPL Library card.
If you have never borrowed from OverDrive before both app directions and browser directions are available as well as a video tutorial and Overdrive Support.

Here are some quick shortcuts to OverDrive's audiobook collections.
See our blog post Listening to Audiobooks on OverDrive/Libby for tips and tricks as well as audiobook recommendations!
Skip the Wait!
Hold lines can get very long for new and popular titles, but there are actually thousands of audiobooks available with no wait. Here are some tips for finding OverDrive audiobooks to check out immediately.
On OverDrive Lucky Day Available Now e-Books and e-Audiobooks, it's your lucky day! No waiting required-—these popular titles are available now! All Lucky Day titles have a seven day loan period and cannot be renewed. You may borrow only one Lucky Day title at a time. If you are lucky enough to get a Lucky Day copy, please remember to cancel the hold you might have on the regular copy!
You can always narrow down your search results in the Libby app by choosing the "Available now" option under "Refine." On the OverDrive website choose "Available now" from the list of filters on the left side of the screen.
Here are two helpful links for young readers: No Wait, No Problem Audiobooks for Kids and No Wait No Problem e-Books for Teens.
---
Hoopla
Hoopla has audiobooks for all ages. You can borrow 10 Items each month using your IndyPL Library card. If you have never borrowed from Hoopla before directions are available as well as a video tutorial.Download Hoopla on the App Store

If you are listening to Hoopla audiobooks on a PC or Mac you can only stream them, so you'll need an internet connection to listen. Streaming audiobooks can consume a lot of data, so we recommend streaming Hoopla over a Wi-Fi connection.
If you are listening to Hoopla audiobooks on the Hoopla app, you can download them when you have a connection, and then enjoy them offline later.
Here are some quick short cuts to some of Hoopla's audiobook and read along collections:
Skip the Wait!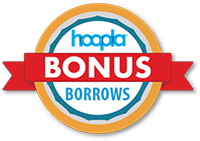 You don't have to put Hoopla titles on hold, you are allowed to borrow whatever titles you want, up to 10 per month.
However, if you've already read your 10 monthly borrows, Hoopla frequently offers Bonus Borrows. Bonus Borrows don't count against your monthly borrowing limit - look for them on Hoopla.