Tips for Searching OverDrive/Libby for Available Titles
If you use OverDrive's website:

After doing a search in OverDrive you can narrow your results down to just available e-books by using the "Available Now" filter. It is on the left side of the screen.

If you use OverDrive's Libby app: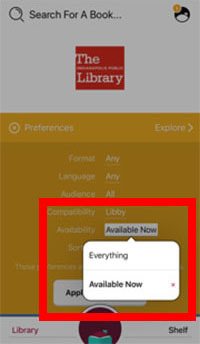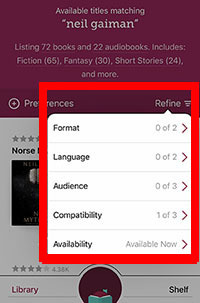 You can set a preference so that you only see titles that are "available now". As you search, results will only be titles that are immediately available. If you do this, you will need to remember to change your preference back to "Everything" when you want to see the entire collection again and put titles on hold if they are not available.
If you don't want "available now" as a default preference setting, you can click on "Refine" after any search to open up a drop-down menu. The last choice is "Availability". Choose "Available Now".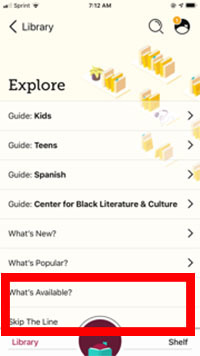 Two great options for simply browsing available titles are both under the "Explore" option on the Libby app. If you choose "What's Available" you can see a list of available e-books that are simply in order by popularity. Just scroll through and pick one to read.
The "Skip the Line" list is a little different. We call these "Lucky Day" also. These are titles that DO have long wait lists, but you get to skip to the top of the wait list if you choose one of them. They are, however, a 7 day checkout and are not renewable.It's like winning the lottery. It's your lucky day!
Tips for Searching Axis 360 for Available Titles
The Axis 360 website and app look very similar. On the right you can choose if you want to see only available titles. Click on the upside down arrow and choose "Available Now". Once you do that, no matter what search you do, you will only be shown titles that are available for checkout. Axis 360 will remember this setting for the current session you are in, but as soon as you log out, it will forget it. You will have to choose that option again the next time you search.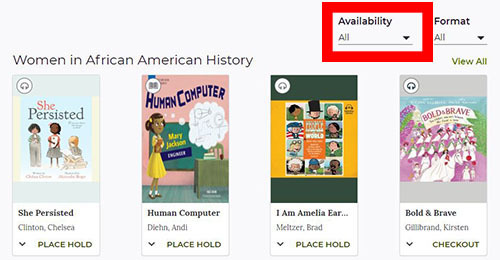 If you just want to narrow down search results to "available now" as you go, search as you normally would and then use the "REFINE" feature on the right. Choose "Availability" and then select "Available Now".
Tips for Searching the Library Catalog for Available Titles
Use the filters on the left to narrow down your search results. After entering your search, choose the format filter "e-books". If you only want to see the e-books that are immediately available, use the "available now" filter. Click on the upside down arrow next to the words "Available Now." A list of locations will appear. Scroll to the end of the list and choose "show more". When that screen opens select "IndyPL - Web". Click the "x" to close the window. Your results will now be the e-books in your search results that do not have any holds on them.


Do you need help learning how to download and stream library materials? Contact the Webmaster or Call-a-Librarian at 317 275-4184.