You can read and download full issues of popular magazines with your IndyPL library card. We offer two different platforms for borrowing e-Magazines, RBdigital and Flipster. Both Flipster and RBdigital have e-magazines for kids and teens Flipster (Kids and Teens) and RBdigital (Kids and Teens).
Detailed information about each of these services is available on our download and stream page. If you have never borrowed from one of these platforms before directions are available:
While e-magazines are listed and find-able in the library's catalog, e-magazines are actually far easier to read in a service's website or app. In the website or app you can just click on a magazine cover to get started. Here is what magazine choices typically look like in a service's website or app: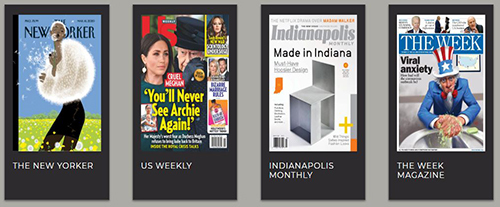 If you click on one of the magazine covers, the next screen typically looks like this. If you want to see back issues you just click on "All Issues." Easy.

This is what magazine listings look like in the library catalog:
If you "Click here for full text" this is what it looks like:
The actual magazine is still several clicks away. Enough said. Ha! If you are just wanting to pass a lazy afternoon by the pool or flip through a magazine during lunch, the websites and apps for these services are much easier to use than the library catalog.
Although there are MANY more, here is a small sampling of the magazines available in each service:
Featured RBdigital Magazines Include: (RBdigital has magazines in 17 languages)
New Yorker
US Weekly
Indianapolis Monthly
Newsweek
Food Network Magazine
HGTV Magazine
Good Housekeeping
In Touch Weekly
Vanity Fair
Vogue GQ
Esquire
Wired TV Guide
Featured Flipster Magazines include:
People Entertainment Weekly
Time
The Atlantic
Essence
Eating Well
Forbes
Fortune
Kiplinger's Retirement Report
Better Homes & Gardens
Southern Living
Martha Stewart Living
Shape
Sports Illustrated
Do you need help learning how to download and stream library materials? Contact the Webmaster or Call-a-Librarian at 317 275-4184.