You can read and download full issues of popular magazines with your IndyPL library card. We offer two different platforms for borrowing e-Magazines, OverDrive and Flipster. Both services also have magazines for kids and teens at OverDrive Kids and Teens, Flipster Kids and Flipster Teens.
Detailed information about each of these services is available on our download and stream page. If you have never borrowed from one of these platforms before directions are available:
While e-magazines are listed and find-able in the library's catalog, e-magazines are actually far easier to read in a service's website or app. In the website or app you can just click on a magazine cover to get started. Here is what magazine choices typically look like in a service's website or app: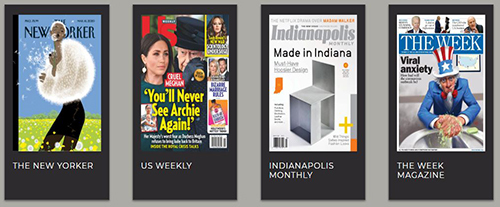 If you click on one of the magazine covers, the next screen typically looks like this. If you want to see back issues just click on "All Issues." Easy!

Tips for reading OverDrive e-magazines:
On the Overdrive website, the magazines are under the Collections link at the top of the page.


In Libby, you can find the magazines by choosing Explore and then any one of the following: What's New, What's Popular, or What's Available.
How do the e-magazines in OverDrive work?
eMagazine do not count toward the OverDrive checkout limits.
eMagazines can be downloaded to Libby for offline use.


Back Issues: There will be a "rolling" 3 years of back issues wherever available, based on the date of publication.


The most recent issue of every magazine will appear in search results, with links to previous issues from the magazine's title details page.


There is a lending period for magazines. Users can choose between the 7, 14, or 21 days options.


All magazines can be renewed within 3 days of the end of the lending period. If the loan ends, the magazine can just be borrowed again immediately.


There is currently no option to automatically borrow new issues of a magazine.