We have thousands of movies and tv shows for kids, teens, and adults to download or stream instantly with a library card. We buy streaming licenses from more than one platform, the same way you might subscribe to more than one streaming platform (Netflix, Hulu, Disney) at home. One platform does not have everything!
Detailed information about each of these is available on our download and stream page. If you have never borrowed from one of these platforms before directions are available: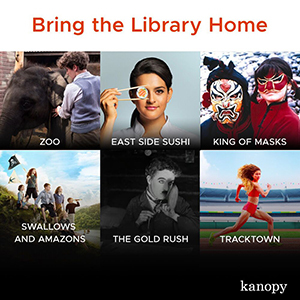 Shout out to our streaming movie partner Kanopy who put together a collection of films at no cost to public libraries for the next 30 days (begins March 14th).
Usually, you can borrow 10 titles a month using Kanopy. Kanopy is not charging you one of your 10 credits when you watch these. You will not be changed credits for Kanopy Kids either. That's a good deal! It is time for a movie marathon! List of credit-free movies you can check out.
Kanopy said, "We hope these changes help your library's efforts during these challenging circumstances." These changes do! Thank you!
---
Browsing in the website or app of one of these movie streaming services typically looks like this:
If you prefer, you can also check out most (but not all) of these streaming movies directly from the library catalog. When you see a streaming movie in the catalog it will typically look like this:
Whether a person prefers checking out from a service's app or would rather use the library catalog, is purely personal preference. The advantage of searching in the library's catalog is that you will be searching the streaming movies and shows of these services all at one time.
Do you need help learning how to download and stream library materials? Contact the Webmaster or Call-a-Librarian at 317 275-4184.
Links to Popular Movies and Shows:
Adults
Teens
Kids