Story Time at Various Library Locations and Online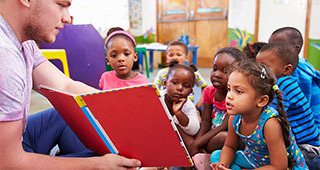 Play with library friends and have fun developing early literacy skills! We will read stories and sing songs, and do a craft or activity together! Schedule
---
Playdate with a Book
Play with library friends and have fun developing early literacy skills! We will read stories and sing songs. Demonstrate a craft or activity together with materials you might have at home. This event is being held as an online meeting/webinar. You will be emailed login instructions approximately 24 hours before the event. (All children who attend must be registered. Parents need not register themselves.)
Wednesday, August 4 at 3:00 pm Register
Wednesday, August 11 at 3:00 pm Register
Wednesday, August 18 at 3:00 pm Register
Wednesday, August 25 at 3:00 pm Register
---
Digital Maker Lab
Let's make together! Kids ages 6 – 11 are invited to join the Learning Curve online for STEM art projects, crafts, and experiments. Use household objects and materials to learn about everyday physics, chemistry, engineering and more. This event is being held as an online meeting/webinar. You will be emailed login instructions approximately 24 hours before the event.
Saturday, July 31 at 3:00 pm Register

---
Call-a-Story
Call-a-Story is a free local call at (317) 275-4444, seven days a week, 24 hours a day, or toll free (877) 275-9007. (Presione 2 para escuchar la historia en Español.)
---
Looking for more seasonal online reading fun?
Try these blog posts and booklists to find book recommendations, online video read aloud stories and printable activities for kids: