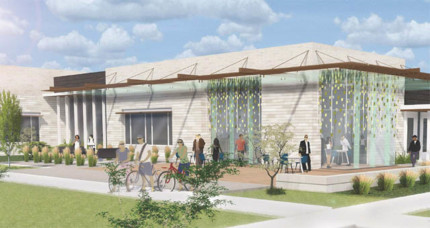 The Glendale community is invited to sign a steel beam that will be used in the construction of the new Glendale Branch Library. The beam is available to sign at the current Glendale Branch location at 6101 N Keystone Ave, July 25 through August 31.
Judy Gray, the manager of the Glendale Branch Library, hopes this opportunity will help the community get excited about the new branch.
"We are preparing to move to have a stand-alone building after being in the Glendale Shopping Center for more than 20 years, and we want our patrons and the community to be a part of this exciting new chapter," said Gray. "Now everyone who calls Glendale their home branch can leave their mark on this new space that will meet the needs of this community for years to come."
The Indianapolis Public Library broke ground on the new Glendale Branch Library on April 14, 2022, attracting an eager crowd of more than 150 community leaders, patrons, and stakeholders. The 24,800 square foot Branch will be located at the site of the former John Strange Elementary School at 3660 E. 62nd St.
The $15.3 Million project is funded by bonds approved by the Indianapolis City-County Council that will be assessed without any increase in IndyPL's current debt service tax rate. Powers & Sons Construction Co. is managing the construction and krM Architecture+ is the architect for the project.
A grand opening is anticipated for Fall 2023.