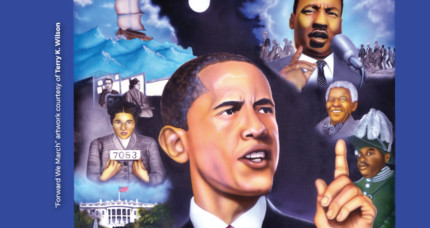 Celebrate local Black artists during Meet the Artists XXXIII, from January 28 - March 27 at Central Library and other branch Libraries. This year's showcase will promote the theme "All-Star" and highlight the works of more than 30 artists, sculptors, authors, filmmakers, and musicians. The "All-Star" theme plays tribute to the NBA All-Star game that was scheduled to take place at Bankers Life Fieldhouse Feb 2021, but was rescheduled to 2024 due to the Covid-19 pandemic. The events will be virtual, and the artwork will be displayed at Central and various branches, with hopes that libraries will reopen for public browsing in the near future.
On January 28 at 7 p.m. Jackie Nytes, the Library's Chief Executive Officer, will offer an opening statement and Amoahs Drum Troupe will kick off the event with African drumming. Other highlights include virtual painting and drawing classes for adults and children, a screening of the film Black Men in White Coats about disparities in the medical field, and several music acts ranging from a reggae violin duo, Sons of Mystro, to gospel, The Williams Singers, to jazz by Goldie Ingram featuring saxophonist Rob Dixon. Programming will conclude with the popular All-Star Fashion Show coordinated by local stylist Nicole Rene. Patrons can attend events by visiting here and clicking "online programs."
"African-American artists and artists of color don't have any local galleries in Indy where we can truly express our culture. The Library and Meet the Artists has given local artists a platform to celebrate their culture and jumpstart their careers," said Tony Radford, artist-in-residence with IndyPL. "For 33 years the Library's African-American History Committee has given the community a great exhibit and gala reception despite bad weather, the four year transformation of Central Library, and the pandemic. We are excited to offer Meet the Artists as a virtual experience for 2021."
Meet the Artists XXXIII is made possible by the Christel DeHaan Family Foundation and Friends of the Library through gifts to The Indianapolis Public Library Foundation. It is presented by the Library's African-American History Committee in support of the Center for Black Literature & Culture at Central Library. Full details can be found here.